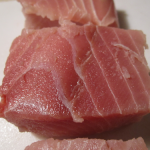 I don't cook a whole lot of sea food, but I am always looking to try new things.  So after a fairly successful attempt at salmon, I headed back to the sea food counter at the local grocery.  The man behind the case mentioned some shark steaks, and they looked so lean and meaty that I couldn't resist.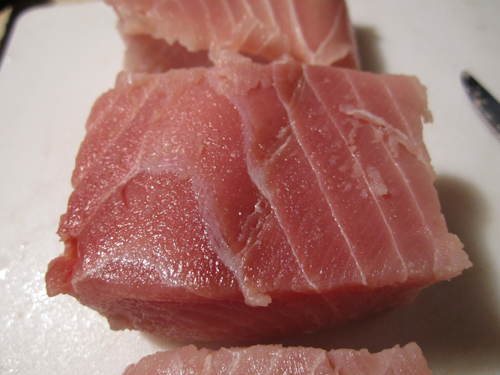 Just look at that!  The shark steak is pure muscle, so I started thinking that they would probably need some kind of marinade to prevent drying out.  There isn't any kind of significant fat coming from the shark itself, so oil is going to be the major ingredient in that.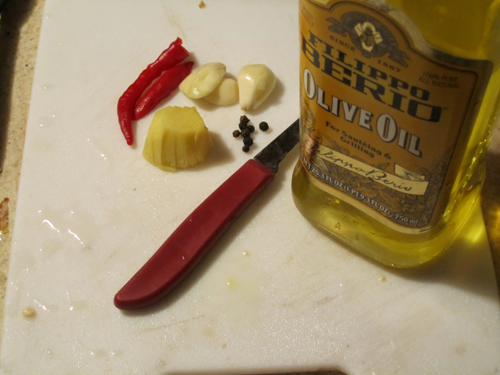 Basically:  a dozen black peppercorns, a small red cayenne pepper (carefully de-seeded!), three cloves of garlic, and about a big spoon of ginger.
Will it blend?  Absolutely! It took a bit of coaxing but I finally got a fairly consistent oil that smelled great.  From there, I bagged up the shark steaks and poured this mix all over.  After letting it sit in the fridge for another three of four hours, they were ready for the broiler.  Cooked at about 12 minutes per side, they were a nice combination of tenderness, solid protein, and a subtle but distinct flavor that is only vaguely reminiscent of fish and other sea steaks.
It actually turned out very well with the olive oil, but I'm sure you could use just about any veggie oil, from a more neutral peanut to a more dominant sesame.  I'd personally prefer to stay away from the canola, as the most accurate description of the taste profile that I've heard is "a metal trying to be a fish."
Unfortunately, I seem to have forgotten to get any pictures of the shark steaks after cooking.  We were in a big hurry to eat them actually, because the entire house was quickly filled up with a delicious aroma that was as inviting as it was new.
This particular meal was served with some rice and sesame oil, as well as some steamed snow peas.  For drinks, a blush wine seemed to hit the spot just right.