When you're eating gluten free and you want to try various sauces & flavors, you've basically got two choices.  You can either research every brand and their production methods, or you can skip the risks and hassle by making it fresh at home.  While cooking everything is definitely time consuming, it is also a chance to capture the flavors when they are at their peak.
With that in mind, I decided to get some horseradish back on my plate.  I finally got my camera, so I took a couple photos to help demonstrate prepared horseradish and its use in a nice creamy but tangy sauce.
Preparing Horseradish
Whole horseradish you can find at the store is a brown dusty root.  Once you peel the barky skin off, cut the remaining spicy pulp in to roughly even chunks.  Take the chunks and put them in a blender with a tiny bit of water (just enough to make it blend!)  The smell is extremely powerful, so you might want to do this outside or in a well ventilated area.  Also, be sure to not touch your eyes or nose when your hands have been working with the root.
Now, when the horseradish is finely shredded, you've got to give it a minute or two.  As the flavor molecules interact with the air, the pulp will actually get spicier for up to three minutes before it starts becoming milder again.  The secret to capturing the flavor is to add in some vinegar at the point of the reaction you want to keep.  So about 2 minutes after the blender is done, add in that vinegar and shake it up.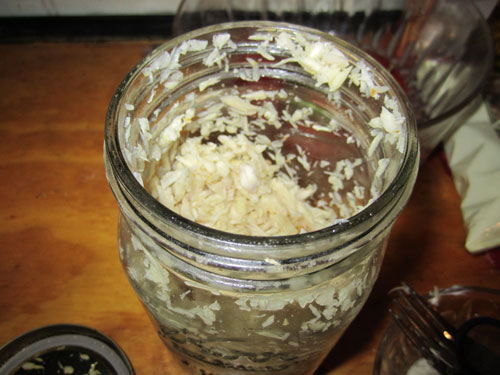 Now you've got prepared horseradish!  Chill it in the fridge for up to a month of fresh root, or freeze it for as much as six months.
Creamy gluten free horseradish sauce recipe
The hard part is done when you've got your horseradish prepared.  To make a creamy sauce with some kick, all you have to do is mix about one spoonful of horseradish with about three spoons of mayonaise or sour cream, and a small bit of spicy brown mustard.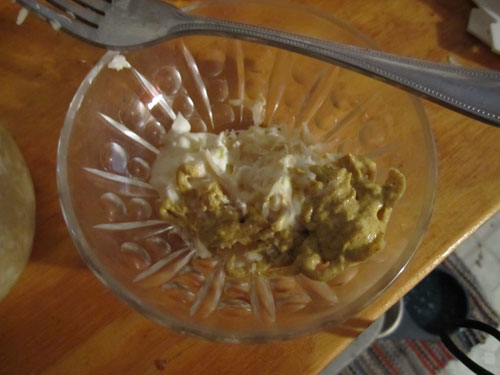 Now all you've got to do is stir that up and put it in the fridge for a bit!  It definitely tastes great as a dip with steaks and chicken.